Technical Parameter 1
Type
Rated voltage
(kV)
Rated mechanical tension load
(KN)
Connection mark
Structural height
(mm)
Min arc distance
(mm)
Min nominal creepage distance
(mm)
Lightning full wave impulse withstand voltage
≥ (kV)
Operating impulse withstand voltage
≥ (kV)
Frequency withstand voltage
(kV)
FXBW4-10/40
10
40
11W
340±15
190
400
95
-
60
FXBW4-10/70
10
70
16W
360±15
190
490
95
-
60
FXBW4-10/100
10
100
16W
400±15
190
490
95
-
60
FXBW4-20/40
20
40
16W
450±15
280
600
170
-
75
FXBW4-20/70
20
70
16W
470±15
280
750
170
-
75
FXBW4-20/100
20
100
16W
500±15
280
750
170
-
75
FXBW4-20/120
20
120
16W
500±15
280
750
170
-
75
FXBW4-35/70
35
70
16W
640±15
450
1300
230
-
95
FXBW5-35/70
35
70
16W
750±15
530
1370
250
-
105
FXBW4-35/100
35
100
16W
680±15
450
1300
230
-
95
FXBW5-35/100
35
100
16W
750±15
530
1370
250
-
105
FXBW4-35/120
35
120
16W
680±15
450
1300
230
-
95
FXBW4-66/70
66
70
16W
900±15
700
1900
410
-
185
FXBW5-66/70
66
70
16W
1010±15
780
2130
410
-
185
FXBW4-66/100
66
100
16W
940±15
700
1900
410
-
185
FXBW5-66/100
66
100
16W
1010±15
780
2130
410
-
185
FXBW4-66/120
66
120
16W
940±15
700
1900
410
-
185
FXBW-110/70
110
70
16W
1200±15
1000
3150
550
-
230
FXBW4-110/70-1420
110
70
16W
1420±15
1200
3600
550
-
230
FXBW4-110/100
110
100
16W
1240±15
1000
3150
550
-
230
FXBW4-110/100-1440
110
100
16W
1440±15
1200
3600
550
-
230
FXBW4-110/120
110
120
16W
1240±15
1000
3150
550
-
230
FXBW4-110/120-1440
110
120
16W
1440±15
1200
3600
550
-
230
FXBW4-110/160
110
160
20R
2150±30
1050
3600
550
-
230
FXBW4-110/160-1440
110
160
20R
2240±30
1140
4200
550
-
230
FXBW3-220/70
220
70
16W
2150±30
1900
6300
1000
-
395
FXBW4-220/70
220
70
16W
2240±30
2000
6600
1000
-
395
FXBW3-220/100
220
100
16W
2150±30
1900
6300
1000
-
395
FXBW4-220/100
220
100
16W
2240±30
2000
6600
1000
-
395
FXBW5-220/100
220
100
16W
2470±30
2150
6900
1000
-
395
FXBW4-220/120
220
120
16W
2240±30
2000
6600
1000
-
395
FXBW4-220/160
220
160
20R
2240±30
1900
6300
1000
-
395
FXBW5-220/160
220
160
20R
2470±30
2150
6900
1000
-
395
FXBW4-220/180
220
180
20R
2240±30
1900
6300
1000
-
395
FXBW5-220/180
220
180
20R
2470±30
2150
6900
1000
-
395
FXBW4-220/210
220
210
20R
2240±30
1900
6300
1000
-
395
FXBW5-220/210
220
210
20R
2270±30
2150
6900
1000
-
395
FXBW3-330/100
330
100
16W
2930±40
2600
9075
1425
950
570
FXBW4-330/100
330
100
16W
2990±40
2600
9500
1425
950
570
FXBW3-330/120
330
120
16W
2930±40
2600
9075
1425
950
570
FXBW4-330/120
330
120
16W
2990±40
2600
9500
1425
950
570
FXBW3-330/160
330
160
20R
2930±40
2600
9075
1425
950
570
FXBW4-330/160
330
160
20R
2990±40
2600
9500
1425
950
570
FXBW3-330/180
330
180
20R
2930±40
2600
9075
1425
950
570
FXBW4-330/180
330
180
20R
2990±40
2600
9500
1425
950
570
Technical Parameter 2
Type
Rated voltage
(kV)
Rated mechanical tension load
(KN)
Connection mark
Structural height
(mm)
Min arc distance
(mm)
Min nominal creepage distance
(mm)
Lightning full wave impulse withstand voltage
≥ (kV)
Operating impulse withstand voltage
≥ (kV)
Frequency withstand voltage
(kV)
FXBW3-330/210
330
210
20R
2930±40
2600
9075
1425
950
570
FXBW4-330/210
330
210
20R
2990±40
2600
9500
1425
950
570
FXBW3-330/240
330
240
20R
2990±40
2600
9075
1425
950
570
FXBW4-330/240
330
240
20R
3050±40
2600
9500
1425
950
570
FXBW3-500/100
500
100
16W
4030±50
3650
13750
2050
1240
740
FXBW3-500/100-4340
500
100
16W
4340±50
3650
13750
2050
1240
740
FXBW4-500/100
500
100
16W
4450±50
4000
14500
2250
1240
740
FXBW3-500/120
500
120
16W
4030±50
3650
13750
2050
1240
740
FXBW3-500/120-4340
500
120
16W
4340±50
3650
13750
2050
1240
740
FXBW4-500/120
500
120
16W
4450±50
4000
14500
2250
1240
740
FXBW3-500/160
500
160
20R
4030±50
3650
13750
2050
1240
740
FXBW3-500/160-4340
500
160
20R
4340±50
3650
13750
2050
1240
740
FXBW4-500/160
500
160
20R
4450±50
4000
15000
2250
1240
740
FXBW3-500/180
500
180
20R
4030±50
3650
13750
2050
1240
740
FXBW3-500/180-4340
500
180
20R
4340±50
3650
13750
2050
1240
740
FXBW4-500/180
500
180
20R
4450±50
4000
15000
2250
1240
740
FXBW3-500/210
500
210
20R
4030±50
3650
13750
2050
1240
740
FXBW3-500/210-4340
500
210
20R
4340±50
3650
13750
2050
1240
740
FXBW4-500/210
500
210
20R
4450±50
4000
15000
2250
1240
740
FXBW3-500/240
500
240
20R
4030±50
3650
13750
2050
1240
740
FXBW3-500/240-4340
500
240
20R
4340±50
3650
13750
2050
1240
740
FXBW4-500/240
500
240
20R
4450±50
4000
15000
2250
1240
740
FXBW3-500/300
500
300
24R
4340±50
3650
13750
2050
1240
740
FXBW4-500/300
500
300
24R
4450±50
4000
15000
2250
1240
740
FXBW4-500/300-6460
500
300
24R
6460±50
6000
15000
2250
1240
740
FXBW4-500/400
500
400
28R
4450±50
4000
15000
2250
1240
740
FXBW4-750/160
750
160
20R
6650±50
6000
21600
2700
1800
1125
FXBW4-750/210
750
210
20R
6650±50
6000
21600
2700
1800
1125
FXBW4-750/240
750
240
20R
6650±50
6000
21600
2700
1800
1125
FXBW4-750/300
750
300
24R
6650±50
6000
21600
2700
1800
1125
FXBW4-750/400
750
400
28R
6650±50
6000
21600
2700
1800
1125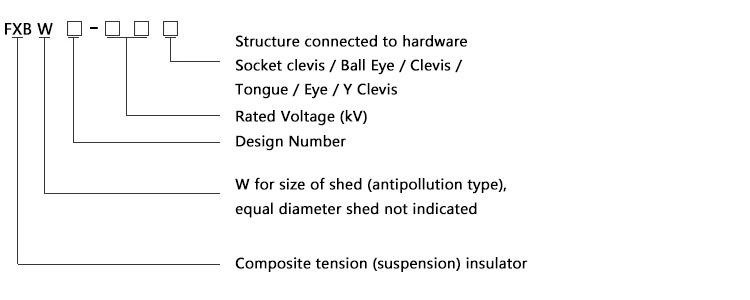 Installation:
1. Insulators should be handled gently during transportation and installation. They should not be thrown, and avoid collision and friction with all kinds of miscellaneous pieces and sharp objects.
2. When the composite insulator is lifted, the knot should be hit on the end attachment. It is forbidden to hit the umbrella skirt or the sheath. When the rope must touch the umbrella skirt and the sheath part, it should be wrapped with a soft cloth at the contact part.
3. The composite insulator should not be used as an auxiliary tool for the discharge (receiving) line, so as not to damage the insulator due to impact or bending moment.
4. It is strictly forbidden to step on the insulator umbrella skirt.
5. When installing the equalizing ring, pay attention to the adjustment so that the ring is perpendicular to the axis of the insulator. The mounting position is shown on the right. For the open type equalizing ring, pay attention to the same direction of opening at both ends to facilitate discharge and protect the shed.